New Cryogenmash station delivers the first batch of industrial gases to ZapSibNeftekhim
10.07.2018
Tobolsk, 9 July 2018. SIBUR has celebrated the first supply of industrial gases from Cryogenmash's new station to ZapSibNeftekhim, Russia's largest petrochemical facility under construction in Tobolsk. The opening ceremony was attended by Dmitry Konov, Chairman of the SIBUR Holding's Management Board, and Dmitry Zauers, Deputy Chairman of Gazprombank's Management Board.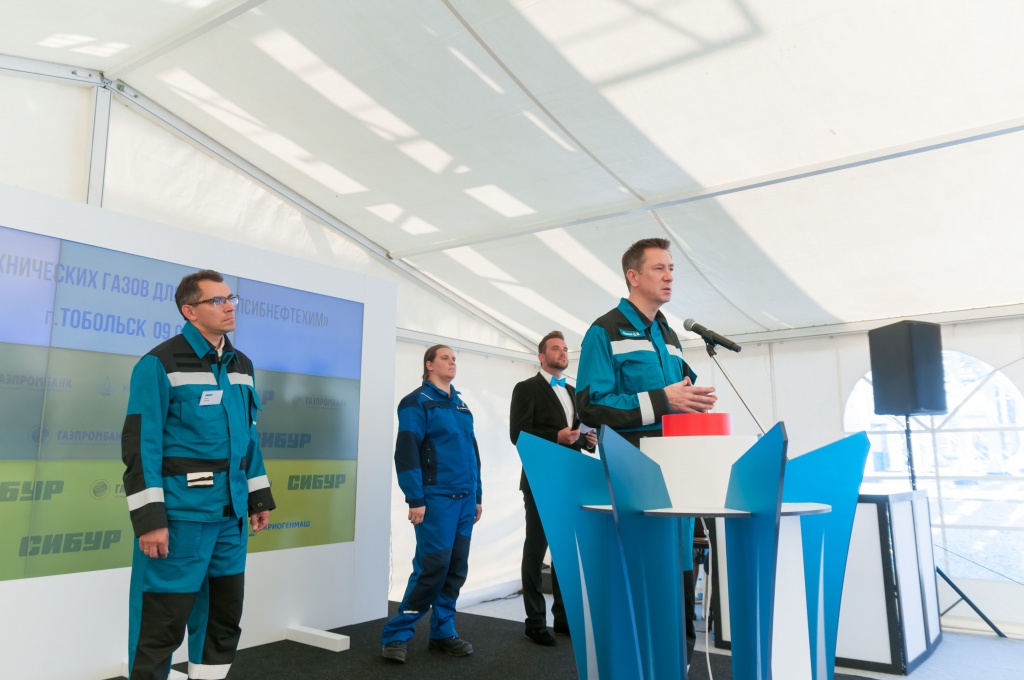 The construction of the new industrial gas station with a capacity of up to 37,000 m3/h of nitrogen and up to 28,000 m3/h of compressed air kicked off in 2017. The station comprises two large cryogenic air separation units, a storage system for liquid cryogenic products, compression and air drying unit, dual circuit cooling system, and dry compressed air and nitrogen receivers. The key equipment was designed and produced by Cryogenmash.

Powering ZapSibNeftekhim with dry compressed air and nitrogen is critical for the construction process as it allows to launch pre-commissioning operations at all production lines and facilities.

Cryogenmash-Gas-Tobolsk, a subsidiary of Cryogenmash, acted as the designer, equipment supplier and contractor during the construction of the dry air and nitrogen production station at ZapSibNeftekhim. Once the facility is commissioned, Cryogenmash-Gas-Tobolsk will be its operator providing an on-site supply of industrial gases to ZapSibNeftekhim until 2039. In its turn, ZapSibNeftekhim undertakes to purchase a certain volume of industrial gases under off-take contracts featuring a pre-approved price formula. The project has been implemented within a very short time frame – 28 months from the design stage to the first industrial gas delivery, which is in line with the best international practices for constructing industrial gas facilities.

"Cryogenmash is our long-standing partner. Several years ago, we completed a project on outsourcing supplies of industrial gases at the company's Tomsk site. This type of cooperation with the leading player in the domestic cryogenic industry will help us ensure uninterrupted energy supply to SIBUR's facilities," said Dmitry Konov, Chairman of the Management Board at SIBUR Holding.

"The new industrial gas station is our contribution to creating Russia's largest petrochemical plant that will deliver record high volumes of products highly sought in the global market. Participating in a project of this scale boosts the development of Gazprombank's industrial assets," commented Deputy Chairman of Gazprombank's Management Board Dmitry Zauers.

For reference:
On-site projects involve placing the equipment for compressed air, nitrogen, oxygen, argon and hydrogen in close proximity to the customer's facilities to meet their needs through direct sales of fixed gas volumes under long-term contracts. The equipment is owned by the supplier and undergoes regular maintenance with no involvement of the customer.
Dry compressed air powers process control systems and metering equipment, presses and pneumatic tools, and is used for purging and pressure testing of pipelines and machinery. As an inert gas nitrogen is employed in production processes, for passivation (regeneration of catalysts), purging and pressure testing of pipelines and machinery, in emergency shutdown and firefighting systems, tank blanketing systems, sealing solutions, safe storage and pumping of highly flammable liquids, etc.
Cryogenmash (part of OMZ Group) is Russia's leader in air separation technologies and equipment, industrial gas supplies and development of integrated solutions for processing natural gas, APG and LNG. Cryogenmash equipment is used to produce over 70% of the annual output of industrial gases in Russia. Gazprombank is the company's major shareholder and financial partner.
ZapSibNeftekhim is set to become the largest modern petrochemical facility in Russia. The project incorporates a steam cracker with a capacity of 1.5 mtpa of ethylene, around 500 ktpa of propylene and 100 ktpa of butane-butylene fraction (BBF), along with units to produce various grades of polyethylene and polypropylene with a total capacity of 2 mtpa.
It will provide for the deep conversion of a substantial portion of oil and gas extraction by-products in West Siberia, including associated petroleum gas, and import substitution for polymers that enjoy the strongest domestic demand and are applied in construction, healthcare, utilities, automotive and other industries.